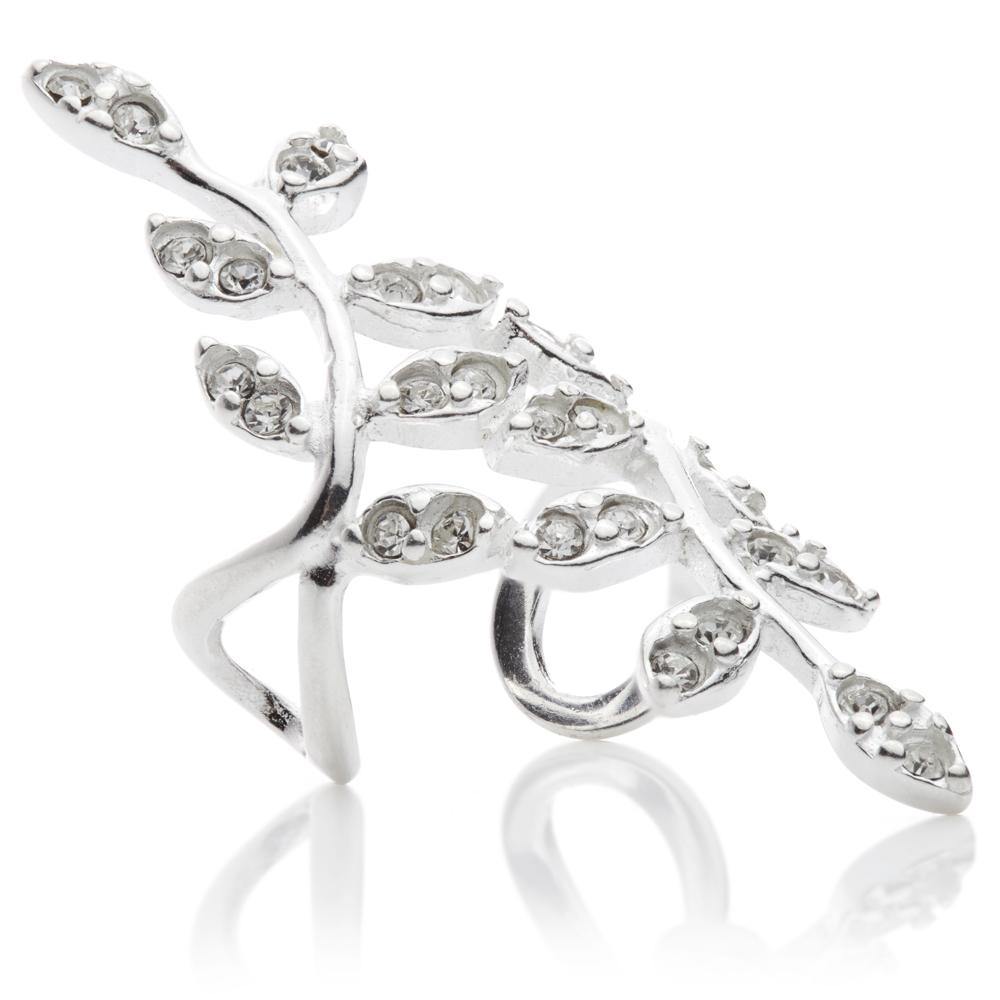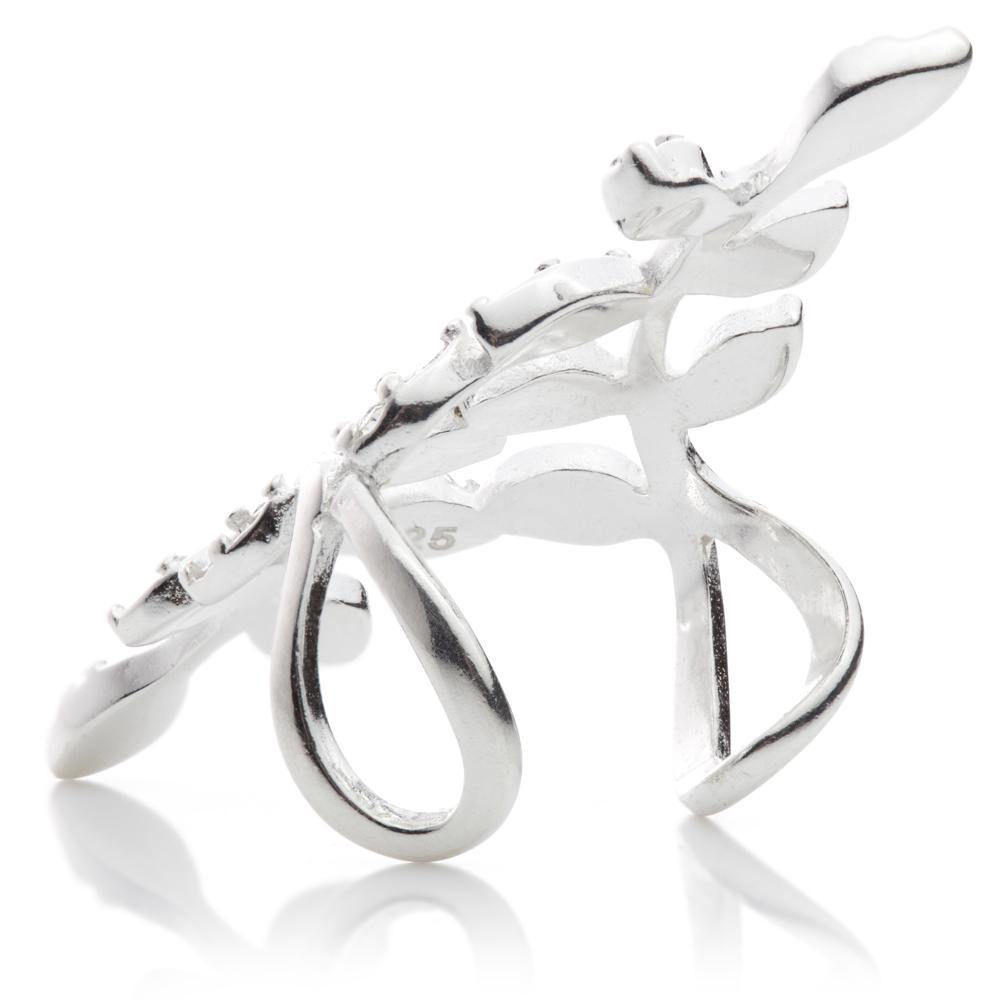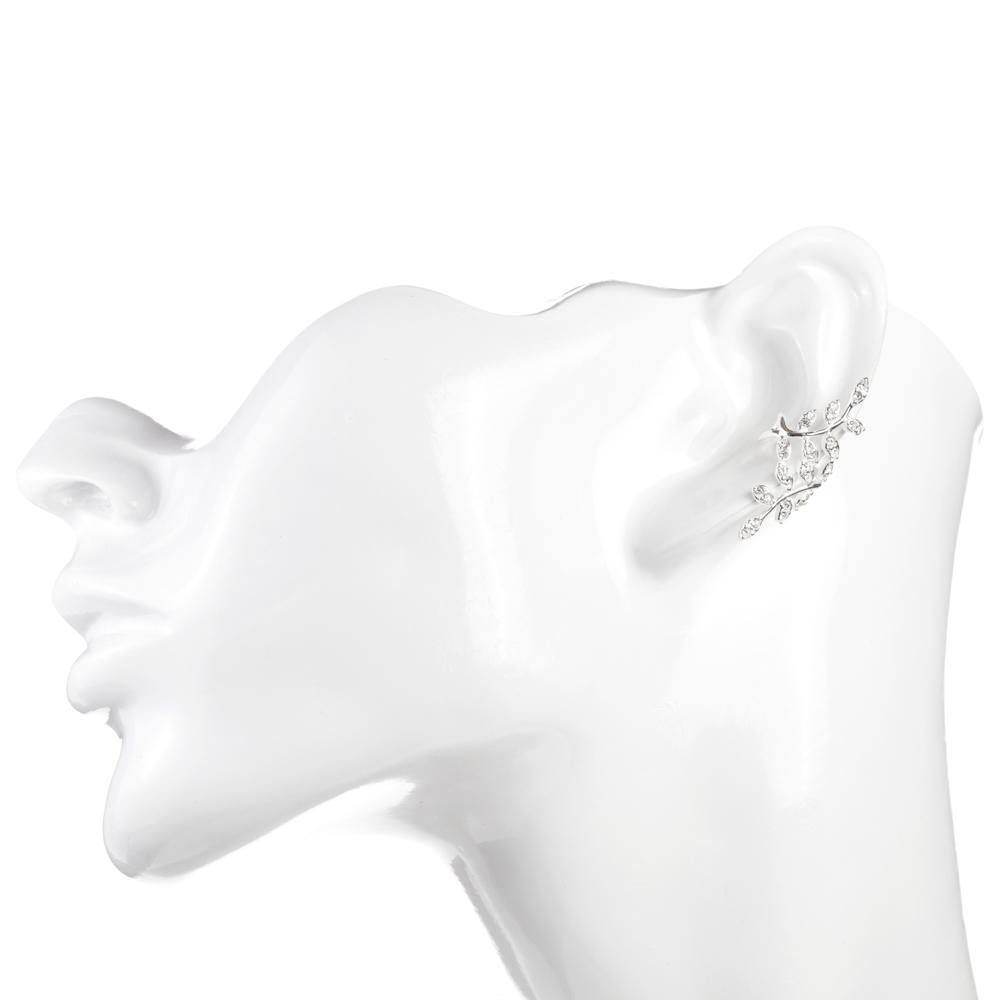 Sterling Silver Twisted Jewel Ash Leaf Ear Cuff
Leaf jewelry is back in style and ready to add an edgy vibe to your looks. The Sterling Silver Twisted Jewel Ash Leaf Ear Cuffs are adorned with sparkling CZ accents. If you are a fan of jewelry, these earrings will be an ideal addition to your collection. Make these earrings your new go-to pair of earrings.
Features:
Nickel Free
High Polish Finish
Tarnish Resistant
Lightweight Feel
925 Sterling Silver
Twisted Gem Ash Leaf 
Wraps around mid-ear.  Solid Silver with CZ pave gems.
For Right or Left Ear

Length: 30mm
Weight: 1.24g

Sold as a Single
Sterling Silver Twisted Jewel Ash Leaf Ear Cuff
Shipping
Shipping
Free Shipping: 
Sent with Royal Mail Recorded Delivery.
Over 90% arrive Next Working Day.
May take up to 7 days.

This is tracked and signed for and sent via Royal Mail.

Special Delivery: £6.50

Guaranteed Next Working Day before 1pm if ordered before 3.30pm.
Fully Tracked and Signed for sent via Royal Mail.
Someone will need to be in to sign for the package.
For International and more shipping policy Read Here.
Returns
Return and Refund:
If you change your mind about your purchase, you can return for a refund within 30 days of dispatch, this does not include intimate items. Items must be returned in their original sale condition.

Unfortunately we cannot accept returns of earrings or pierced goods for hygiene reasons.
Please note earrings are intimate items.
Sizing guide
UK, US And Asian Ring Sizes
The UK uses a system of letters, plus a fraction - e.g. a, a 1/2, b etc. The closer the letter to the end of the alphabet, the larger the ring size. Once you get to 'z', the UK ring sizes start adding on extra sizes with a '+' symbol followed by a number - e.g. z+3, z+3.5 etc. Note that this system is also used in Australia, New Zealand, Ireland and South Africa

UK Ring Size Diameters:

I - 15.22mm
J - 15.61mm
K - 16.00mm
L - 16.40mm
M - 16.79mm
N- 17.18mm
O - 17.58mm
P - 17.97mm
Q - 18.36mm
R - 18.76mm
S - 19.15mm
T - 19.55mm
U - 19.94mmV - 20.33mm
W - 20.73mm
X - 21.12mm
Y - 21.51mm
Z - 21.91mm
US & Canadian Ring Sizes
You might also come across US ring sizes, which are also used in Canada. These are made up of numbers only, starting at '0000', '000', '00', '0', '1/2', '3/4' '1'; going up to '13.5'. The US system of ring sizes goes smaller than the UK, covering sizes all the way down to 31.33mm in circumference. However, the UK system covers larger sizes at the opposite end of the scale.
Asian Ring Sizes
The Asian ring size is used across the entire continent, including India, China and the Middle East (though not Hong Kong, confusingly!). This scale is also used in some South American countries such as Peru and Bolivia. It's the simplest to figure out as it's literally just a case of counting up 1, 2, 3 - there's no fractions or letters to deal with! However, this means it covers fewer sizes than some of the other scales.
Please Note: the best time of day to measure is in the evening, when your fingers are largest. Avoid measuring when you're cold, as fingers are at least half a size smaller.
Beautiful ear cuff, really excited to wear it! Great service and quick dispatch.
It is great. Soft that I can flex it. it was my first purchase of something like this - I wanted to put it on the side of the ear- it turns out, my ears are special and it does not have the fold to clip it - so i ended up putting it on the top of my ear close to the head- this is the only way my ear fold would hold it up - funny I never though about it to check if my ear can hold such a thing. It looks posh and beautiful. perfect decoration when hair are tied up in the bun or pony tale.