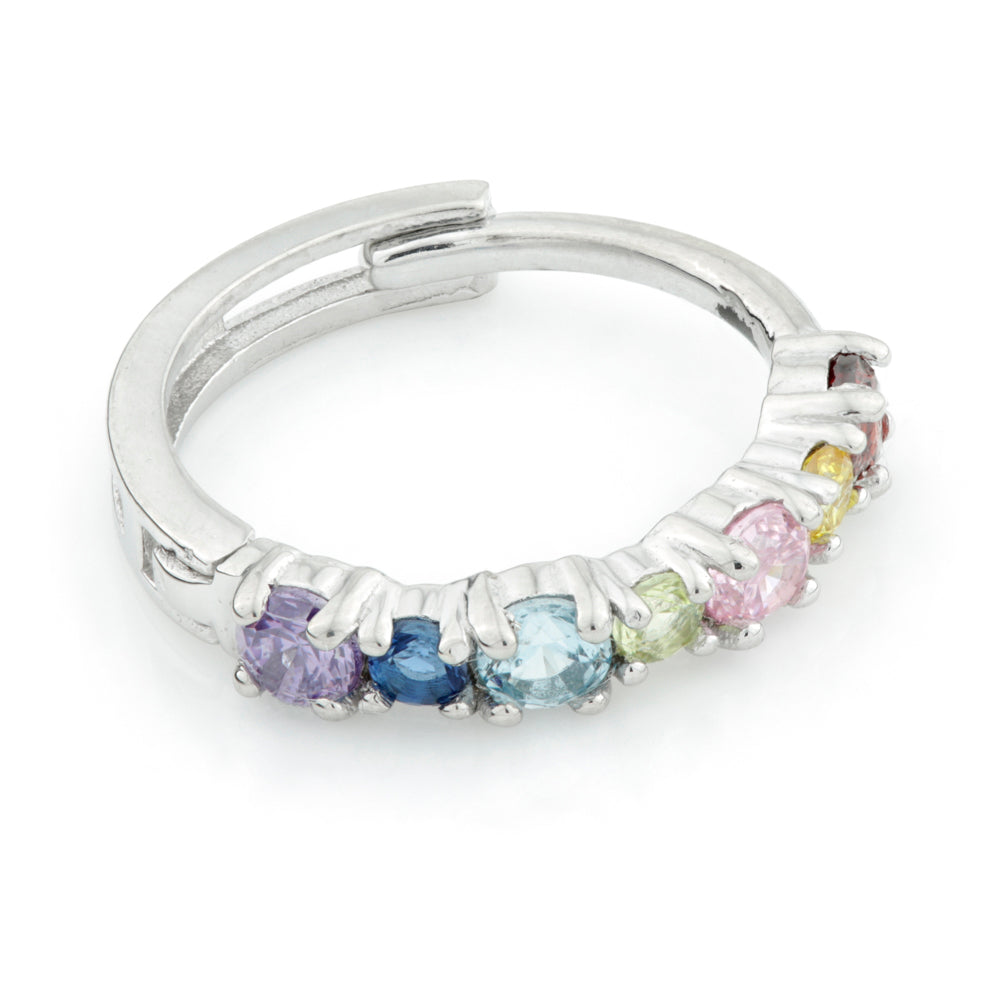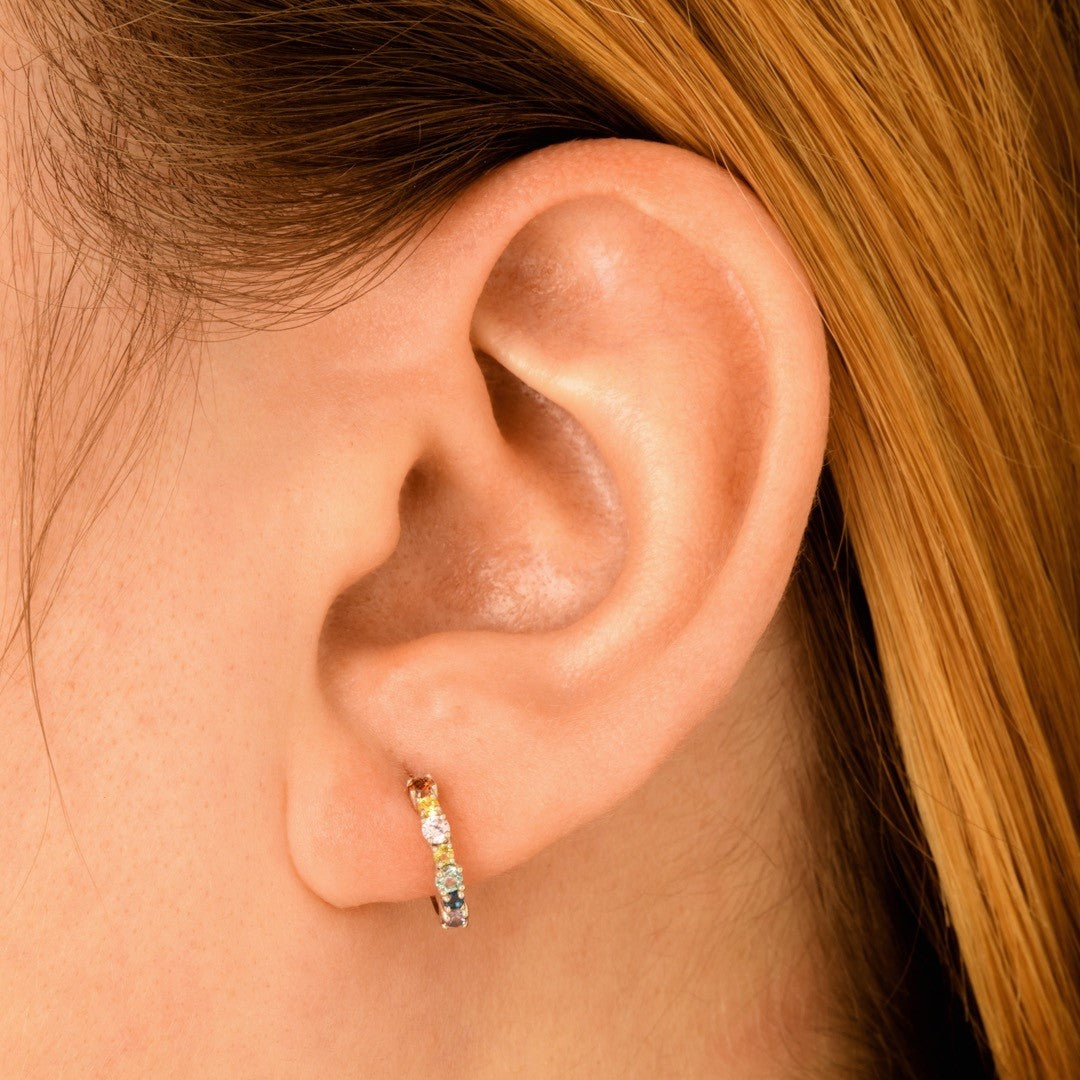 Sterling Silver 925 CZ Rainbow Cartilage Huggie Hoop Earrings
925 Sterling Silver Cartilage Huggie Earrings with Rainbow CZ Gems - Add some colour to your life with our beautiful silver rainbow huggies! With a stunning array of colours on display these earrings are an essential addition to any jewellery collection.
The Details: 
Material: 925 Sterling Silver
Inner Diameter: 9.5mm (outer diameter 11mm)
Gauge: 1.2mm
CZ Gem Colours & Sizes Per Pair: Yellow 1.5mm x 2, Peridot 1.5mm x 2, Sapphire 1.5mm x 2, Garnet 2mm x 2, Pink 2mm x 2, Aqua 2mm x 2, Amethyst 2mm x 2
Sold as a pair
Sterling Silver 925 CZ Rainbow Cartilage Huggie Hoop Earrings
Shipping
Shipping
Free Shipping: 
Sent with Royal Mail Recorded Delivery.
Over 90% arrive Next Working Day.
May take up to 7 days.

This is tracked and signed for and sent via Royal Mail.

Special Delivery: £6.50

Guaranteed Next Working Day before 1pm if ordered before 3.30pm.
Fully Tracked and Signed for sent via Royal Mail.
Someone will need to be in to sign for the package.
For International and more shipping policy Read Here.
Returns
Return and Refund:
If you change your mind about your purchase, you can return for a refund within 30 days of dispatch, this does not include intimate items. Items must be returned in their original sale condition.

Unfortunately we cannot accept returns of earrings or pierced goods for hygiene reasons.
Please note earrings are intimate items.
Sizing guide
UK, US And Asian Ring Sizes
The UK uses a system of letters, plus a fraction - e.g. a, a 1/2, b etc. The closer the letter to the end of the alphabet, the larger the ring size. Once you get to 'z', the UK ring sizes start adding on extra sizes with a '+' symbol followed by a number - e.g. z+3, z+3.5 etc. Note that this system is also used in Australia, New Zealand, Ireland and South Africa

UK Ring Size Diameters:

I - 15.22mm
J - 15.61mm
K - 16.00mm
L - 16.40mm
M - 16.79mm
N- 17.18mm
O - 17.58mm
P - 17.97mm
Q - 18.36mm
R - 18.76mm
S - 19.15mm
T - 19.55mm
U - 19.94mmV - 20.33mm
W - 20.73mm
X - 21.12mm
Y - 21.51mm
Z - 21.91mm
US & Canadian Ring Sizes
You might also come across US ring sizes, which are also used in Canada. These are made up of numbers only, starting at '0000', '000', '00', '0', '1/2', '3/4' '1'; going up to '13.5'. The US system of ring sizes goes smaller than the UK, covering sizes all the way down to 31.33mm in circumference. However, the UK system covers larger sizes at the opposite end of the scale.
Asian Ring Sizes
The Asian ring size is used across the entire continent, including India, China and the Middle East (though not Hong Kong, confusingly!). This scale is also used in some South American countries such as Peru and Bolivia. It's the simplest to figure out as it's literally just a case of counting up 1, 2, 3 - there's no fractions or letters to deal with! However, this means it covers fewer sizes than some of the other scales.
Please Note: the best time of day to measure is in the evening, when your fingers are largest. Avoid measuring when you're cold, as fingers are at least half a size smaller.
These were received in a lovely presentation box and received very quickly after ordering. The earrings are beautiful and look so pretty. I have one in my helix piercing and it fits perfectly. So pleased with this purchase.