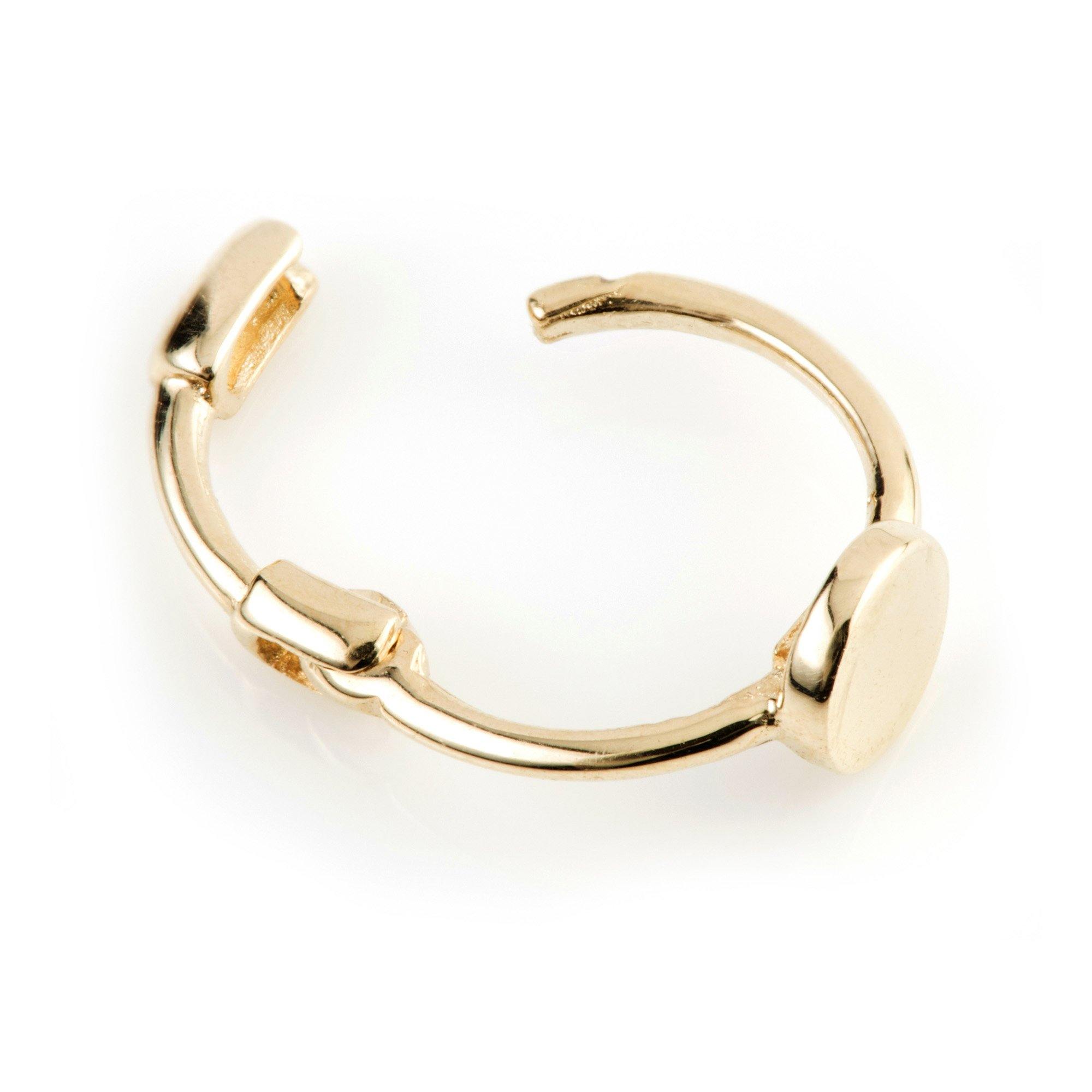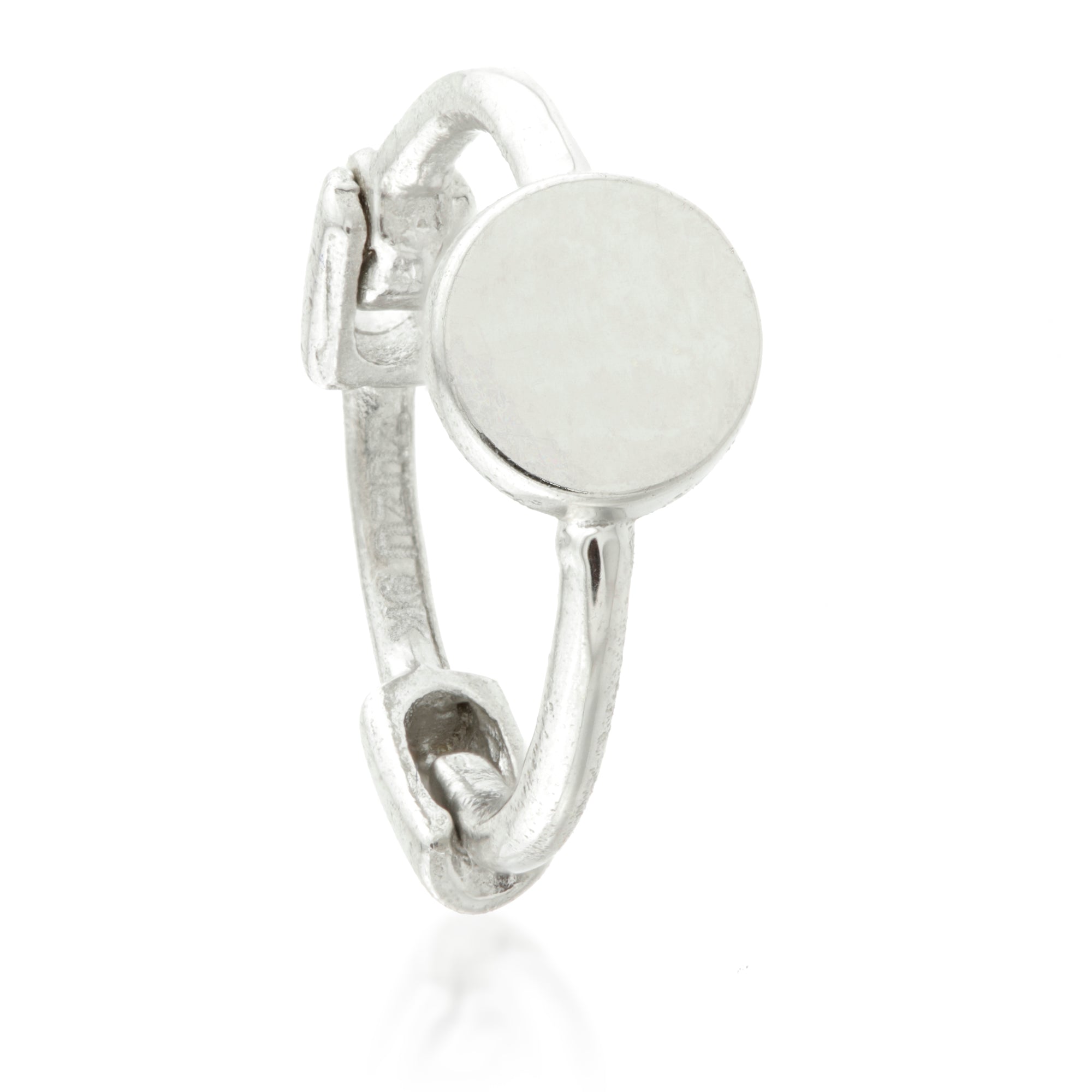 9ct Gold Cartilage Hoop Flat Disc Earring
If you are looking for an easy way to accent your classic look, the 9ct Gold Cartilage Hoop Flat Disc Earring will certainly do the trick. Sporting a 9ct gold, this earring will take you anywhere you want to go in style. It will quickly become a style staple that you will find yourself reaching for over and over again and its guaranteed to add a perfect pop of elegance to anything you wear.

PLEASE NOTE: These earrings are very small, please double-check the measurements to make sure it will fit. 
Generally fits the Helix, Forward Helix & Tragus
See Piercing Guide for more info

Features:
Nickel Free
Tarnish Resistant
Lightweight Feel
9ct Gold

Diameter: 8mm (Internal Diameter: 6mm)

Disc Size: 3mm

Weight: 0.13g

Gauge: 0.6mm/22
Available in Yellow Gold or White Gold.
Sold as a Single (1 Hoop) or Pair (2 Hoops).
9ct Gold Cartilage Hoop Flat Disc Earring
Shipping
Shipping
Free Shipping: 
Sent with Royal Mail Recorded Delivery.
Over 90% arrive Next Working Day.
May take up to 7 days.

This is tracked and signed for and sent via Royal Mail.

Special Delivery: £6.50

Guaranteed Next Working Day before 1pm if ordered before 3.30pm.
Fully Tracked and Signed for sent via Royal Mail.
Someone will need to be in to sign for the package.
For International and more shipping policy Read Here.
Returns
Return and Refund:
If you change your mind about your purchase, you can return for a refund within 30 days of dispatch, this does not include intimate items. Items must be returned in their original sale condition.

Unfortunately we cannot accept returns of earrings or pierced goods for hygiene reasons.
Please note earrings are intimate items.
Sizing guide
UK, US And Asian Ring Sizes
The UK uses a system of letters, plus a fraction - e.g. a, a 1/2, b etc. The closer the letter to the end of the alphabet, the larger the ring size. Once you get to 'z', the UK ring sizes start adding on extra sizes with a '+' symbol followed by a number - e.g. z+3, z+3.5 etc. Note that this system is also used in Australia, New Zealand, Ireland and South Africa

UK Ring Size Diameters:

I - 15.22mm
J - 15.61mm
K - 16.00mm
L - 16.40mm
M - 16.79mm
N- 17.18mm
O - 17.58mm
P - 17.97mm
Q - 18.36mm
R - 18.76mm
S - 19.15mm
T - 19.55mm
U - 19.94mmV - 20.33mm
W - 20.73mm
X - 21.12mm
Y - 21.51mm
Z - 21.91mm
US & Canadian Ring Sizes
You might also come across US ring sizes, which are also used in Canada. These are made up of numbers only, starting at '0000', '000', '00', '0', '1/2', '3/4' '1'; going up to '13.5'. The US system of ring sizes goes smaller than the UK, covering sizes all the way down to 31.33mm in circumference. However, the UK system covers larger sizes at the opposite end of the scale.
Asian Ring Sizes
The Asian ring size is used across the entire continent, including India, China and the Middle East (though not Hong Kong, confusingly!). This scale is also used in some South American countries such as Peru and Bolivia. It's the simplest to figure out as it's literally just a case of counting up 1, 2, 3 - there's no fractions or letters to deal with! However, this means it covers fewer sizes than some of the other scales.
Please Note: the best time of day to measure is in the evening, when your fingers are largest. Avoid measuring when you're cold, as fingers are at least half a size smaller.
Very happy with my purchase, many thanks 😊
Arrived super quickly! It looks tiny but fits perfectly for tragus. Very happy!
Lovely, small earring. Fits well and very comfortable.